Results for - Stingy Jack's Lantern
2,363 voters participated in this survey
1. Pumpkin carving has become a fun Halloween tradition, but the original jack-o'-lanterns were used to frighten away evil spirits. Were you aware of this fact?
2. The legend of Stingy Jack tells of a man who tricked the devil. When Jack died, he was denied entry into heaven and hell. Instead, he was sent into the eternal night with a burning coal inside a carved-out turnip to light his way. Prior to this survey had you heard of Stingy Jack?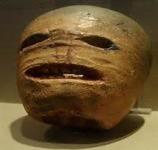 3. People in Ireland and Scotland began making their own versions of Jack's lantern by carving frightening faces into turnips and placing them by their homes to ward off evil spirits. They were referred to as "Jack of the Lantern" or "Jack O'Lanterns." Did you know this is how the popular Halloween tradition originated?
4. When the Irish and Scots came to America, they discovered pumpkins were much easier to carve. Do you carve pumpkins for Halloween?
10/26/2014
Living
2363
22
By: Bboopy13
Earn Rewards Live
Comments