Results for - Look to the Sky
1,009 voters participated in this survey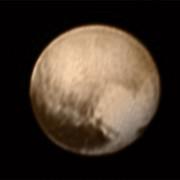 1. This week, NASA will be showing pictures that its spacecraft "New Horizons" sends back from its exploration of Pluto. The craft was launched 9 and a half years ago and has traveled 3 billion miles. Preliminary photos show Pluto as being copper- colored and having a heart-shaped indentation on one side. Are you curious to see other up-close pictures of Pluto and its moon Charon?
2. Last month, Jupiter and Venus were so close to each other that they appeared as a single bright star in the night sky. Some people referred to it as "the Bethlehem Star". Did you happen to see this when it occurred?
3. Halley's Comet, which comes by every 75 years, made its most recent appearance in 1986. Did you get a chance to see it?
4. The Hale–Bopp Comet was perhaps the most widely seen comet of the 20th century and one of the brightest seen for many decades. Do you remember having seen it when it appeared in 1997?
07/15/2015
Living
1009
19
By: karylwood
Comments