Results for - Bug-A-Phobia
1,452 voters participated in this survey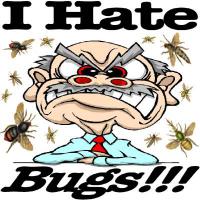 1. Fear of insects mainly includes a disgust response or aversion to bugs. Insects and bugs often appear "ugly or disgusting" owing to their shape or colors. Do you have a fear of bugs?
2. Did you know the fear of bugs or fear of insects is known as Entomophobia or Acarophobia?
3. Which symptoms of Entomophobia are you familiar with?
Complaining constantly about being bitten by bugs.
Different degrees of self mutilation.
Frequent visits to doctors.
Obesity and physical inactivity.
Constantly searching on the Internet to self-validate their beliefs about insects.
Physical symptoms like nausea, shaking, trembling, headaches, crying, screaming at the sight of bugs.
Going to great lengths to avoid bugs and insects.
4. What type of bugs or insects do you have a phobia from?
Yuck, all types of insects!
08/26/2015
Living
1452
40
By: SmokeyandBandit
Comments