Results for - This Man Is Either Super Lucky Or Super Unlucky--What Do You Think?
1,532 voters participated in this survey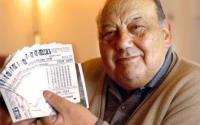 1. Frane Selak is called the world's luckiest man -- or is that the world's unluckiest man? . The Croatian music teacher has cheated death seven times. He's been in a train wreck, an airplane crash, a bus crash, his car blew up a few times, he was hit by a city bus, and his car was forced off a cliff by a truck. But he survived. In 2003, Frane won $1,000,000 dollars in the Croatian lottery! After a short time, he decided that money could not buy him happiness, so he decided to give away his fortune to family and friends, and live a frugal life, keeping just enough to pay for his hip replacement (needed because of the many death escapes he went through?) . His brush with death and fortune has even been the subject of a short animated cartoon--a cartoon that Frane is not that happy about. He says he was portrayed with a mustache and with the wrong accent. Would you consider him lucky or unlucky?
Definitely lucky -- he cheated death how many times, and won the lottery!
Definitely unlucky--how many of us can say we've almost died that many times -- talk about wring place, wrong time!
2. Some people just seem to attract good things or bad things. And some seem to defy the odds by attracting both good and bad luck. Peter McCathie of Nova Scotia was struck by lightening when he was 14, but it gets even stranger. Decades later, Peter won the $1 million prize in a July 15 Lotto 649 draw. And if that isn't enough, his daughter also was struck by lightening while working in Manitoba as a guide. Sophie Leger, a mathematics professor at the University of Moncton, said that this whole scenario has mathematically only a 1 in 2.6 trillion odds of happening. Do you know anyone who has had a combination of unbelievable good luck and bad luck within their lifetime?
3. I heard a woman in the doctor's office telling the nurse that even though she has lung cancer, and was given only six months to live, she considers herself to be lucky because her child who lives out of town, is coming back to visit her for several months, to care for her. She had previously said she would never move back to the area. So this woman considers her bad luck to have a silver lining. I know another woman whose son was diagnosed with a mild case of cerebral palsy and she tells everyone he is "lucky" to have a mild case. Have you ever felt like this-- that something bad is actually good because you see the silver lining?
Yes, I look on the bright side of every situation and see the positive in a bad situation
No, I am very pessimistic and only see the bad
09/01/2015
Living
1532
22
By: Harriet56
Earn Rewards Live
Comments