Results for - Barrel racing.
1,632 voters participated in this survey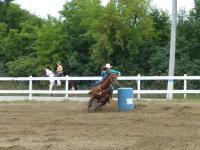 1. Have you ever watched barrel racing live?
2. If you have were you surprized as I was at how fast they go?
3. With the Fall Fair season about to start will you go and watch barrel racing if you get the chance?
09/10/2015
Living
1632
17
By: RRca
Comments