Results for - Straw art and scarecrows
1,633 voters participated in this survey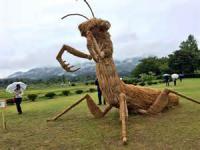 1. In Japan they found a creative way to use straw left over from their rice harvest organizing a "wara" (rice-straw festival). Every August 31st local artists build straw sculptures over wooden frames that allow the statues to be larger. They will remain until the beginning of November. Do you know of any similar festivals in the Americas? If you do, please give us some information about them in the comments below.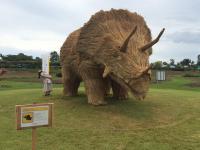 2. A Japanese artist, Amy Goda, built some huge dinosaurs and other giant beasts, including a praying mantis, a crab, and a cobra. Did you see Amy's work before this survey?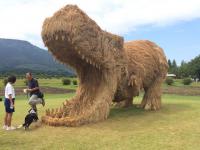 3. The closest thing to straw art I know of is a scarecrow. The impact of the scarecrow extends beyond its immediate utilitarian function. In Kojiki, the oldest surviving book in Japan (compiled in the year 712), a scarecrow known as Kuebiko appears as a deity who cannot walk, yet knows everything about the world. Curiously, they have their own festivals worldwide. In the UK, the Urchfont Scarecrow Festival was established in the 1990s and has grown into a major local event, attracting up to 10,000 people annually for the May Day Bank Holiday. The 'pumpkin people' come in the fall months in the valley region of Nova Scotia, Canada. They are scarecrows with pumpkin heads doing various things such as playing the fiddle or riding a wooden horse. Meaford, Ontario has celebrated the Scarecrow Invasion since 1996. Are there any scarecrows festivals in your area?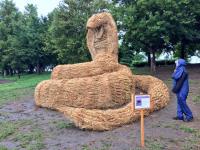 4. Do you have any ideas to create a charity event, building something useful and beautiful while recycling?
09/09/2015
Living
1633
32
By: LBP
Earn Rewards Live
Comments