Results for - Tenant emails about broken Burglar Alarm - Gets shocking Accidental Reply
1,577 voters participated in this survey
1. Sarah Darlington along with her boyfriend Greg emailed S&S Estates to ask for some repairs to the flat they rent in West Didsbury, Greater Manchester. The couple wanted their burglar alarm fixed - it hasn't worked for two years but they were spurred into action after a man tried to break into the flat by climbing up the drain pipe on August 20th. Police later tasered the suspect who was then taken to hospital for a collapsed lung. "We've lived in the property for two years now and the alarm has never worked," she explained. Are you currently or have you in the past lived where someone else is responsible to make repairs to your home?
2. "I must have contacted S&S Estates about six times about it before but they've been useless. They're consistently rude and unhelpful but I knew I had to get the alarm fixed so I sent an email asking for this along with some other repairs." Have you had to contact maintenance more than once to have your repairs fixed?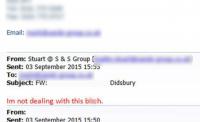 3. The couple were shocked to receive the reply saying, "I'm not dealing with this b**tch", apparently sent intended for someone else in the agency to handle. "To receive that as a reply," she added, "you can imagine how I felt, I'm just very disappointed and upset with it all." S&S Estates has not commented on the email blunder. Its website claims, "In our quest for excellence, we have succeeded in raising the standards of property management and maintenance in the areas in which we operate." Would you move out after receiving a response like this accidental or not?
10/04/2015
Living
1577
22
By: sarahzahm
Earn Rewards Live
Comments