Results for - Solid rain
1,610 voters participated in this survey
1. While rain is not helping the farmers at all in dry areas, solid rain is there to keep the crops alive. It hydrates crops by turning water into gel with potassium polyacrylate, a chemical that can then attach directly to plant roots and water them. Sergio Jesus Rico, an engineer from Mexico's National Polytechnic Institute, was nominated in 2012 for a prestigious world water prize for his invention of solid rain in 2002. Rico and his team tested the chemical on a cornfield in Colombia and found it yielded about 10 metric tons per 10,000 sq. meters compared to about 600 kilograms per 10,000 sq. meters with conventional watering methods. That means in dry places like Mexico, food can be grown in the desert, despite droughts. Water easily evaporates from the soil, and water from the surface often doesn't make it down into the soil for roots to drink. With solid rain, a block of gellified water is buried underground and re-uptakes water when it rains. Each kilogram of solid rain can hold liters of water, up to 200 times its own weight. It can be used with any kind of plant and lasts for eight to 10 years in the ground. Despite it's been in the market for a few years, many people never heard about it. Did you hear about solid rain before this survey?
2. Among its benefits, we can mention it encapsulates water and stores it underground for up to 10 years. It permits successful agriculture under extreme climates and poor soil conditions, providing regular moisture for optimal growth, even in areas of scarce rain and/or water access. It helps aerate the soil while reducing the amount of constant irrigation. It helps retain the nutrients found in the soil by 33%; thus less fertilizing is needed. It helps the environment in moments of drought, desertification, and water contamination. This product was created for farmers, but it seems it can be really helpful for people who live in areas where water use is restricted, so they can keep their garden and grass healthier. If you have a garden, would you like to try this product in order to save water?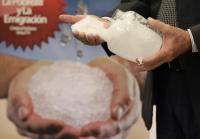 3. In some extremely dry areas farmers are saving solid rain in bags for the crops of the next year, and also to control bushfires, as it creates a barrier to contain and fight bushfires in grassland and shrubs by simply spreading the solidified water at a safe distance of the fire. Despite all the benefits this product can provide, and the low cost per liter (2 cents), Mexican farmers are still attached to the traditional methods. The Mexican government didn't bother to reeducate their farmers to become more productive, while other countries did. Can you mention other inventions that were not fully accepted in the area they were developed and were blooming somewhere else?
4. Can you imagine other uses for this product? If you do, please let us know about it in the comments below
09/17/2015
Living
1610
39
By: LBP
Earn Rewards Live
Comments