Results for - Rare albino Sea Turtle hatchlings discovered
1,731 voters participated in this survey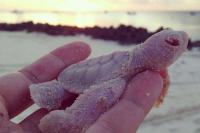 1. Last month I came across this article and these cute little guys stuck with me in my thoughts. While biologists at the Vamizi Conservation and Research Center were monitoring green sea turtle nests off Mozambique's northern coast they made a surprising discovery: not one, but four tiny turtle hatchlings were completely colorless. This is the first time albino turtles have been seen on the island since the monitoring program began back in 2003. Have you ever seen any albino animal in person?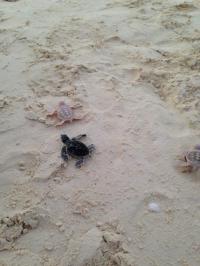 2. Sadly, only two of the four survived long enough to reach the surf, but according to Conservation and Community Manager, Joana Trindade this is a better result than they expected. "Albinism is often associated with other malformations, which is why most animals die a few hours after being born, so having two true albino hatchlings surviving and having no apparent external malformations [is] considered quite rare. Plus, albino turtles often live longer than many other albino animals, so we are optimistic." If you have had experience with an albino animal has its life expectancy spanned longer than expected?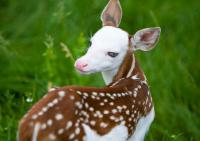 3. A friend of our family owns a working farm that offers educational opportunities for children and families. The farm has goats, mini donkeys, KuneKune pigs, whitetail deer, elk, reindeer and yaks. This summer Dragon was born! He is not albino but has a white face, legs and underside, blue eyes and a pink nose. Do you find Dragon to be as adorable?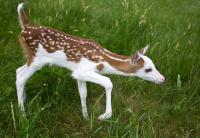 4. Dragon's mother is a special type of whitetail deer known as the Piebald, which carries a genetic defect causing it to have large areas of white in its coat. The defect reportedly occurs in less than 1 percent of the whitetail deer population. When Dragon was born he was rejected by his mother, (she tried to kill him by stomping on him) by natural instinct because he looks different than other fawns. His white coloring would cause him to stand out rather than blend in when trying to hide in nature. If you lived in the area would you go and visit Dragon?
09/21/2015
Living
1731
34
By: sarahzahm
Comments