Results for - Too Much Information!
1,674 voters participated in this survey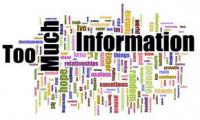 1. With everyone on their cell phones and laptops every where you look, and posting to Facebook, Twitter, Instagram and countless other places, do you believe that people share way too much about themselves now-a-days?
Yes, is nothing private any more?
Perhaps, I like seeing pictures of your vacation, but do I really need to see photos of that latte you just had?
No, it's the same as it always was--we're just using different ways to get the info out there
Not sure, let me Tweet about it, and get back to you...
I don't pay attention to this stuff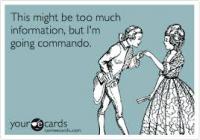 2. When you read or hear about celebrities, what topics do you think should be off limits?
I only want to hear about their work--everything else should be off limits
I like hearing about their personal life and volunteerism, plus their work
I love to hear everything about them--almost nothing should be off limits!
Hey, I even want to know what underwear they wear--in other words, give me all the dirt
I don't want to hear anything about them! Zip!
3. Do you think it is important for celebrities and sports figures to talk about their sexual orientation, or do you wish they would keep it private?
It's important--these people are role models and need to tell other people that are confused or feeling alone that there are successful people out there who went through exactly what they are going through
No, they should keep it to themselves--it's no one's business but theirs
A bit of both--depends on the context and the celebrity
4. I find that certain people on this site, Tellwut, have to comment on every single survey, no matter what the topic. Do you agree that some comments should be kept private?
Hey, I enjoy the comments -- it's the best part of Tellwut
I agree 100% -- why do you have to comment on everything, even if it's to say "I don't do this"...
Some comments are welcome, but keep them short please!
Not sure, but maybe I'll comment on it
09/25/2015
Living
1674
34
By: ghahrem5
Comments