Results for - Tackling Transphobia
2,192 voters participated in this survey
British teen Charlie Craggs has been giving people free manicures and pedicures for two years in order to combat transphobia, Nail Transphobia, is a campaign that tries to tackle transphobia through pop-up nail salons that allow strangers to get their nails done free of charge by a trans person.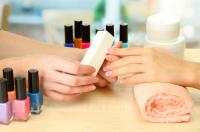 1. Do you know what transphobia is?
Yes, I am familiar with this term
No, I am not familiar with this term
2. Do you think this campaign will help people to be more comfortable with the trans community?
3. Do you know someone that identifies with being a transgender or transexual?
4. If Nail Transphobia was in your city, would you get your nails done at one of their pop-nail salons?
09/28/2015
Living
2192
34
By: Tellwut
Comments