Results for - Rare Fluorescent Sea Turtle Glows Red and Green
1,664 voters participated in this survey
1. In late July, deep sea divers made a glowing discovery: a sea turtle that reflected light. Did you know such a turtle existed?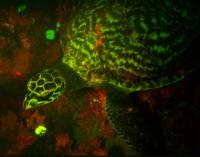 2. Below the tropical waves near the Solomon Islands, nighttime divers spotted a psychedelic vision: an endangered sea turtle glowing bright red and green. The turtle, identified as the hawksbill sea turtle, is on the critically endangered list. It is the first reptile to reflect blue light hitting a surface and re-emit it it as a different color, also known as biofluorescence. Have you heard of a hawksbill turtle before this survey?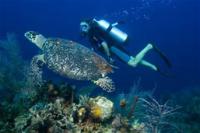 3. Have you ever gone deep sea or scuba diving?
4. If you have gone deep sea or scuba diving did you enjoy it?
5. If you have not gone deep sea or scuba diving would you like to see the ocean life by going diving?
10/07/2015
Living
1664
20
By: sarahzahm
Earn Rewards Live
Comments