Results for - False Catshark
1,749 voters participated in this survey
A group of marine biologists working for the Scottish government agency, Marine Scotland, recently reeled in the rare shark during a deep-sea survey off the west coast of Scotland. The false catshark is a female that's approximately 6.5 feet long and weighs just under 132.2 pounds. False catsharks have a unique face that resembles the blobfish. It's also known as the "sofa shark" because of its large, billowy shape. This deep-water shark that's also known as a keel-dorsal shark can live up to 6,200 feet below the surface of the ocean and occasionally makes an appearance on the continental shelves, the underwater land mass that extends from a continent and creates a shallow area of water. They can grow up to just over 9.5 feet in length and are rarely seen in the wild, so their population totals are not well known.
1. The false catshark is a very rare breed of ground shark. Have you heard of a false catshark?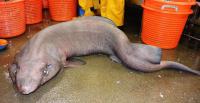 2. Do you think it has an interesting look?
3. What scientists do know about this unusual shark species, however, is pretty astounding. For instance, the embryos of the false catshark are oophagous, meaning they eat the eggs their mother produces while still in the womb. The strange eating habits continue into sharks' adult lives. A study published in the scientific journal Copeia in 1992 surveyed the stomach contents of several false catsharks. They didn't just find the usual assortment of sea creatures such as squids, octopi and other sharks but they also found some "human garbage" including potatoes, a pear, a plastic bag and a soft drink can. Did you know sharks will eat just about anything?
10/06/2015
Living
1749
24
By: sarahzahm
Comments