Results for - Have you seen this guy balance stuff?
1,206 voters participated in this survey
1. I just recently saw Rocky Byun's skill demonstrated on a commercial for Fairfield Inn. I appreciate all forms of human creativity and did a quick internet search of him. Had you heard of Rocky Byun prior to this survey?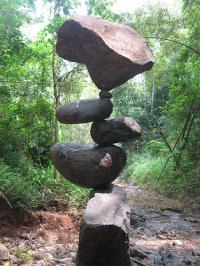 2. To me, it is fascinating and relaxing to see objects balanced in ways few people thought possible. Is it relaxing to you or are you just anticipating the object falling? *photo credit* "Rock balancing (Counter Balance)" by Leandro Inocencio
It is kind of relaxing to look at
Mostly just anticipating it falling over
3. Have you seen rock balance sculptures in gardens or public art displays?
4. I enjoy rock climbing and frequently see balanced rock sculptures made by other climbers at the base of rock faces. Have you ever attempted any rock balancing?
5. Does seeing Rocky Byun's work inspire you to try balancing things?
10/26/2015
Living
1206
17
By: UpstateSC
Earn Rewards Live
Comments