Results for - Should there be a law?
1,907 voters participated in this survey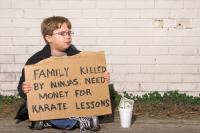 1. Usually on Sundays I go to the movies with a friend. We hang out at a local coffee shoppe before and after the movie. During the week I meet friends at Starbucks. It never fails, that I am confronted by the same family, at least once daily, if not twice, holding up a sign asking for money. Judgement aside, I hate being interrupted during a meal, coffee, and/or conservation by a woman and kids dressed better than myself, asking for money. Granted my city abides by panhandling as being an expression of freedom of speech just like singers and guitar players on the street. However, do you think that people should be allowed to enter restaurants and coffee shoppes asking people for money?
Yes, no matter what the establishment is
Depends on where: McDonalds: yes, The Ritz: no
2. At one Starbucks, a regular customer shoos this family out of the shoppe, at Panera, only one of the managers requires the family to leave. Regardless of the city laws, should the establishment have the final say so as to people coming in and begging for money?
3. If you find people asking for money to be annoying, where would the most annoying place be?
On or off ramp to a freeway
Entrance/exit to a shopping center
Right at the entrance to an establishment
Walking around inside a restaurant
Walking around inside another place other than a restaurant
10/14/2015
Living
1907
58
By: ptajuggalette
Earn Rewards Live
Comments