Results for - The Bride of Chuckie's name may be Annabelle. Ashley Nicole Fine of Leeds, Alabama, is a paranormal enthusiast and has a collection of over 100 dolls, some of which she believes are haunted.
1,633 voters participated in this survey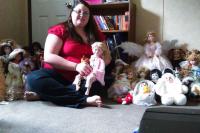 1. Are you familiar with the story of Ashley Nicole Fine and her collection of haunted dolls ?
No, haven't heard about her
2. Do you believe that her dolls could be haunted?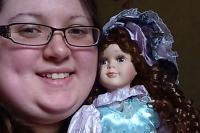 3. Her boyfriend, Phillip Baston, wakes up with unexplained scratches and thinks her dolls are doing it, do you think he's making it up so he can get attention from Nicole?
4. Ashley said that if given the choice between her dolls and her boyfriend Phillip, she would give him up, do you think she would be making the right decision?
Yes, there's plenty of fish in the ocean
No, she should give up the dolls
5. Do you or have you ever had a doll collection?
10/20/2015
Living
1633
37
By: BelLise
Earn Rewards Live
Comments