Results for - Revelations: The shocking type
1,649 voters participated in this survey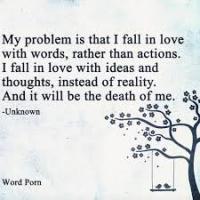 1. Please read the following quote and rate how much you agree with it: "My problem is that I fall in love with words, rather than actions. I fall in love with ideas and thoughts, instead of reality. And it will be the death of me."
3. Neither agree nor disagree
2. If your score was 4 or 5, have there been issues in your life that the quote applies to?
3. This is a pattern with me, even at 58, I cannot trust myself to make rational decisions with men, so I stay away from relationships. Is it this way with you, too?
10/23/2015
Living
1649
33
By: ptajuggalette
Comments