Results for - Geocaching!
1,841 voters participated in this survey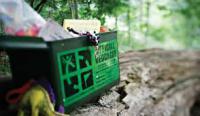 1. Have you ever heard of Geocaching?
2. Geocaching is a real-world, outdoor treasure hunting game using GPS-enabled devices. Participants navigate to a set of GPS coordinates and try to find the geocache hidden at that location. Have you ever participated in this activity?
No, but it sounds like FUN!
3. Sometimes you can find large Geocaches that are kind of like a treasure chest! These boxes have a logbook and you can sometimes take a treasure for leaving a treasure! Does this help make the hunt worth it?
4. Would you make a day of traveling to different locations in search of geocaches?
10/28/2015
Living
1841
23
By: ambeenicole8843
Earn Rewards Live
Comments