Results for - Hurricane Patricia
1,972 voters participated in this survey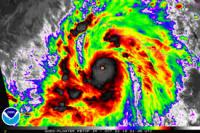 1. Hurricane Patricia is, at this writing, mere hours away from landfall in Mexico. Did you hear about Patricia before the storm hit the west coast of Mexico?
2. Have you experienced any hurricane first-hand?
3. Have you ever prepared for a natural disaster by stocking up on groceries, water, medical and other supplies?
4. Considering where you anticipate living and traveling in the next 5 years, how likely is it that you will experience a hurricane first-hand?
10/25/2015
Living
1972
32
By: Tiger_Lily
Earn Rewards Live
Comments