Results for - Science at its best!?
1,691 voters participated in this survey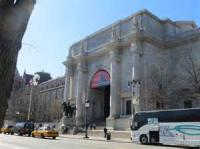 1. Have you ever been to the American Museum of Natural History in New York?

2. Have you ever heard of a Guadalcanal moustached kingfisher?
3. Chris Filardi, director of the Pacific Programs at the museum, had been searching for the orange, white, and brilliant-blue bird for more than 20 years. After days of tracking, while on a field study in the high forests of Guadalcanal in the Solomon Islands, he and his colleagues captured a male moustached kingfisher in a mist net. Then the team killed it. They decided to euthanize the bird so it could be studied as a "scientific specimen." Does this surprise you?
4. Ornithology records only indicate that the bird is "rare," with anywhere between 250 and 1,000 surviving in the wild. Landowners on the island told the research team the bird was common and a source of food to some. At the density levels the team observed, and with 15 percent of the island containing suitable habitat, Filardi estimates the moustached kingfisher population at around 4,000 and not in imminent danger of extinction. Do you question his estimation of population?
5. Since the birds are isolated to Guadalcanal, they face many of the same challenges of other "single-island endemic" animals, such as invasive species, habitat degradation from logging and mining, and shifting temperatures to climate change. According to the researchers, with the collected sample, they have a more comprehensive set of molecular, morphological, and toxicological data that can't be garnered from blood samples, individual feathers, or photographs. "The specters of extinction for island birds loom in today's world," Filardi wrote. "The collection of a single moustached kingfisher is not among them. And, beyond advancing science, I believe this act will positively impact the kingfisher's world." Do you agree with his statement?
11/06/2015
Living
1691
18
By: sarahzahm
Comments