Results for - Have you had to deal with the mess/art of graffiti?
1,948 voters participated in this survey
1. This morning I discovered that graffiti vandals did a number on the fence surrounding the property I'm renting. Have you ever lived in a neighborhood where you, or a nearby neighbor, had graffiti sprayed somewhere on your property?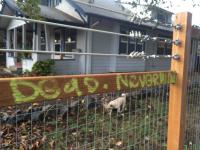 2. Most of the vandalism I experienced was silver spray paint, easy to remove with baking soda and vinegar. However, the yellow painted-on writing (such as in the picture) was very difficult to remove. After trying mineral spirits, thinner and sanding, there is still a ghost image of "Dead Nevermind" on the fence. If this was your property, what would you do about the ghost image on your fence?
I'd do nothing, figuring that natural elements like rain, sun and wind would eventually diminish the ghost image.
I'd do some research, trying to find out how to best remove the ghost image.
I would definitely do something to get rid of the ghost image. Leaving it as it is would not be an option for me.
Frankly, I wouldn't have even tried to remove the original graffiti.
I would paint over the ghost image since pressure washing, sanding and applying thinner won't do the job.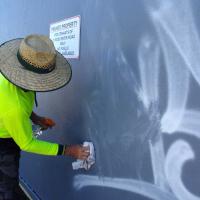 3. The city where I live will assist with graffiti removal on public property and businesses, but not on private property such as single-family detached homes. (This has to do with the large amount of graffiti within the city.) Does your city assist residents with graffiti removal, other than just giving advice?
Yes, my city has a program to help out homeowners with graffiti removal.
Nope, my city is like yours--no removal assistance for private property.
I have not a clue what my city does.
Not applicable--I don't live in a city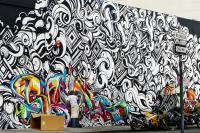 4. You know, I've got to wonder what drives individuals to deface others' property. I have my own hunches. Yet, some graffiti is truly beautiful. Have you seen, in person, what you would call beautiful graffiti? (Photo is street art by Roberto Cavalli.)
11/04/2015
Living
1948
29
By: Tiger_Lily
Earn Rewards Live
Comments