Results for - If you can't decide; when in doubt ....
1,702 voters participated in this survey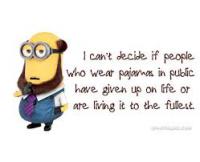 1. It seems when I go out to eat, I am lacking in time and patience when trying to decide what to eat. (Example: can't decide between fries or onion rings, or can't decide between coffee or tea). So, I order both. How about you?
I've ordered the two items that I cannot decide on which one to get (got both)
I ordered something completely different
I've gone to a different place
Had someone else that I was with order the 2nd item, and we shared
2. I could never really decide what major to choose in college, as a result I have enough units for probably 2 PhD.'s. Have the same problem with interior decorating, so most of my adult life my living space has been eclectic. If you are similar, what areas of your life have been taxing, when making decisions?
What style of clothing/fashion to wear
How to decorate your digs
What to area to major in, in college
What real estate to purchase
Something else not listed, feel free to kvetch in the comment section
What type of wedding gift to purchase
What type of person to choose for dating or a long term committment
How much to spend on a gift
3. Lastly, have you ever had to ask someone else to make the final decision for you?
11/02/2015
Living
1702
36
By: ptajuggalette
Comments