Results for - World's Most Expensive Biscuit
1,735 voters participated in this survey
1. Have you ever been to an auction?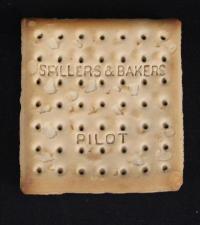 2. This biscuit, that looks more like a saltine cracker, survived the sinking of the Titanic in 1912. James and Mabel Fenwick were on the SS Carpathia for a three-month honeymoon to Europe when they picked up survivors from the Titanic. James took the Spillers & Bakers Pilot biscuit from the survival kit on one of the doomed ocean liner's lifeboats and kept it as a souvenir. James put it in a Kodak photographic envelope with notation of 'Pilot biscuit from Titanic lifeboat April 1912.' During such a tragic situation does it surprise you someone thought to take a souvenir?
3. According to BBC, a collector from Greece recently purchased the biscuit at auction for £15,000, or more than $23,000 in Devizes, Wiltshire. Have you ever bought a piece of history to have as part of a collection?
4. At the same auction a photograph purportedly of the iceberg that took down the Titanic—taken a day after the wreck by a ship making the same crossing—sold for £21,000, or more than $32,000. Would you buy something for that much money without proof it's actually the item stated in the picture?
11/03/2015
Living
1735
15
By: sarahzahm
Earn Rewards Live
Comments