Results for - Shoe Etiquette
2,069 voters participated in this survey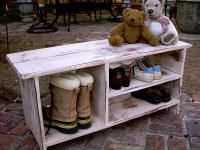 1. Do you take your shoes off before you enter your home?
2. If you do take your shoes off what do you do with them?
Leave them in the garage.
Set them in the mud room.
3. For some Asian homes, removing your shoes is a mark of respect to the house, honor to its cleanliness and purity. Do you ask your guest to remove their shoes before entering?
4. I have a neighbor who has his shoe rack in the garage and recently a new neighbor has one on his front porch. Have you seen this in your neighborhood?
11/11/2015
Living
2069
41
By: Lisie
Comments