Results for - Ghost Photobomb
1,756 voters participated in this survey
1. Do you believe in ghosts?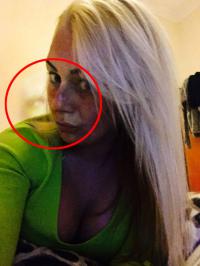 2. Natasha Boden, 26, from Blackpool, Lancashire, took this picture of herself after dyeing her hair blonde, only to find the shape of a spirit face on her shoulder in the resulting image. Do you see a ghost in this picture?
3. She said she was reduced to tears when she zoomed in on the selfie and will not return to the property because she thinks it might be haunted. "I've never believed in ghosts or anything like that. If someone else had taken the photograph I would think it was a load of rubbish but the face is so clear. I'd just dyed my hair so I decided to take a quick selfie to see what it looked like, and as I flicked through the photographs I realized there was the face of a man lurking near my right shoulder. I was terrified. I was alone in the flat and I knew I had to get out immediately. It was 11pm but I checked into a hotel and asked my boyfriend to meet me there. There was no way I would be able to sleep after what I had seen. When I first moved in I noticed the floorboards would creak when nobody was there, but I thought it was just because it's an old building. Now I am having second thoughts. It's just so weird. Six weeks ago I was sitting in my living room when two undertakers knocked on the door. When I opened the door they said they were there to collect a dead body. I told them there was no dead body in my flat but they were adamant. Eventually they came back and apologized and said they had the wrong flat, but it really scared me." Would you move after hearing her explanation?
11/12/2015
Living
1756
30
By: sarahzahm
Comments