Results for - Tiger becomes unlikely friends with a goat!
1,908 voters participated in this survey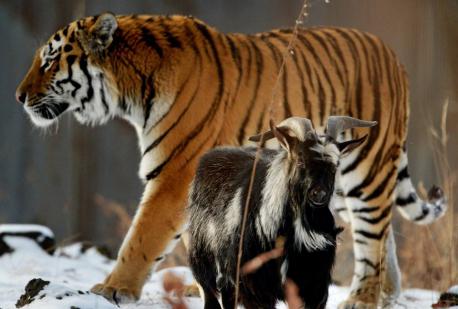 1. Meet Amur the tiger and Timur the goat. An odd and remarkable thing happened when a live goat was put into the enclosure of a Siberian tiger as part of its twice-a-week feeding of live animals at the Primorsky Safari Park in Russia: Amur the tiger became friends with its dinner. Does this surprise you?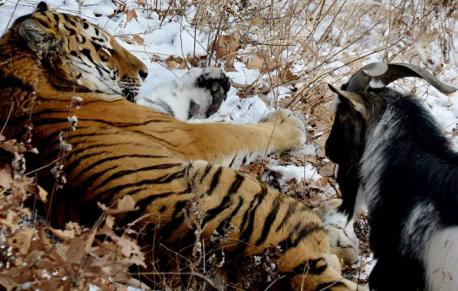 2. Timur the goat and Amur the tiger eat and play together, chase each other in the snow, and even playfully head-butt each other. Amur is now getting a diet of live rabbits "out of respect for goats" and the tiger has attempted to teach the goat how to catch the prey. Timur has shown Amur how to lick a block of salt that it was given. Timur the goat has even taken over the shelter Amur the tiger usually sleeps in, and now Amur sleeps on the shelter's roof. The story has captivated Russia and Primorsky Safari Park issues regular updates and plans to install webcams in the enclosure. Would you like to watch a live feed of this relationship?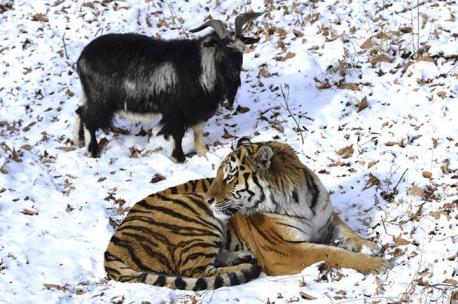 3. Unfortunately, Novosibirsk zoo director, Rostislav Shilo, said there was an 80 to 85 percent chance of that the Siberian tiger would eventually eat the goat. Would this prevent you from wanting to learn more about this friendship?
12/17/2015
Living
1908
39
By: sarahzahm
Earn Rewards Live
Comments