Results for - City Mouse Country Mouse
1,598 voters participated in this survey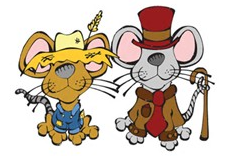 1. When you were young did you get to experience both country and city living? This may have been because you lived in both locations or spent a lot of time visiting one location and living in the other.
Country mouse with city friends/family
City mouse with country friends/family
Lived in both country and city locations while growing up
2. When you were younger did you think you lived in the best location or did you envy people in the city/country?
Wished I were in the opposite location than where I was.
Lived in both and thought they were both good.
Lived in both and one situation was much better.
3. Have you ever noticed the country mouse city mouse scenario is in tons of movies?
4. If you were financially able to live wherever you wanted which one would you be? (I'm going to make you choose one... )
12/25/2015
Living
1598
30
By: dvtinker
Comments