Results for - Calling all Sandwich Police!
1,841 voters participated in this survey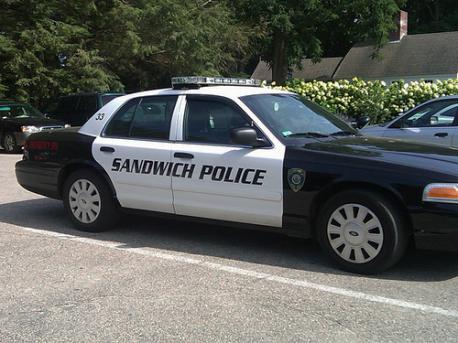 1. Seeing the picture of this police car this morning, came at the perfect time. Once a week, I go over the hill for tacos at a friend's restaurant. I often see a gentleman while waiting for the bus. He knows I'm in school and proceeded to tell me about the food for the homeless. He has some serious health issues and finds that the food handed out at the local pantries as well as served at the community lunches are sometimes not fit for anyone, or not for someone with health issues. I am in the process, on this man's behalf, of writing a letter to see if I can't stir up the pot a little and change the food that is available for the homeless. Here is a list of what you might get at a pantry for a brown bag lunch, choose what you think is healthy, in terms of you eating and serving your family:
Sandwiches with cheese and ham
Tiny juice boxes, or the foil pouches of juicy drinks
Salad donations from Trader Joes
Celery and carrots with peanut butter
2. This man also told me that he went to a community lunch and everything was so salty that he could not eat. He asked if there was something in the kitchen that was not salty (He had a stroke and has high blood pressure, and is on a salt restricted diet). The woman replied that he should just eat what is given to him and feel lucky that he gets anything at all, this is after he explained his medical condition. What do you think abou this?
The lady is right, the homeless should not be choosy regardless of their health status
Just because you're homeless doesn't mean you should not have access to healthy food
3. So, being homeless is hard enough, but it also speeds up as well as brings on the chronic conditions. Not eating right complicates the situation. Have you ever bought something "unhealthy" for a homeless person?
4. If the temperature was severely cold, would you buy bottled water for a homeless person?
5. Would you wake up a homeless person, after 10pm even into the middle hours of the night to ask if they needed food?
6. Food and other items: Please check off what is true for you:
I have left my extra food, from a restaurant for a homeless person to eat (and the food has touched my hands)
I would not eat food that a stranger's hands have touched
I have left food for a homeless person, that they might not eat for hours and hours and hours, so basically it's food that's going to be left out unrefrigerated
I would never eat food that has been sitting out for hours on end due to the foodborne illness
I have given items to a homeless person, not thinking about them having to carry it, or not being able to
I have walking problems, back issues that prevent me from lifting or carrying heavy items for long periods of time or distances
I watch what I eat (sugar, salt, etc)
When I purchase something for a homeless person, I just grab what is easiest or the cheapest
7. Do you think that you are any different than a homeless person (please refrain from mental, alcohol, drug, incarcerated status considerations)
I am different than a homeless person
The only thing different between a homeless person and myself is that I have a roof over my head
8. I have mentioned before that I am applying to a doctorate program. I am making my decision based on a contribution that I can make to an area that needs it. I will list my choices, check off what you think is most worthy:
The homeless having access to healthy food
Leaf blowers being mandated to wear masks
Pedestrian and motor vehicle collision study
01/01/2016
Living
1841
44
By: ptajuggalette
Comments