Results for - 10 top etiquette rules: do you follow them or break them?
1,766 voters participated in this survey
Core Rules of Netiquette: Rule 1: Remember the Human Rule 2: Adhere to the same standards of behavior online that you follow in real life Rule 3: Know where you are in cyberspace Rule 4: Respect other people's time and bandwidth Rule 5: Make yourself look good online Rule 6: Share expert knowledge Rule 7: Help keep flame wars under control Rule 8: Respect other people's privacy Rule 9: Don't abuse your power Rule 10: Be forgiving of other people's mistakes (what a concept!!!!!)
1. Here are ten ever so important etiquette rules. Check off the ones that you follow/adhere to:
The right hand is for waving and shaking hands (using the left hand is for sneezing or coughing into)
Your purse should be on the left shoulder, and on the floor to your right at dinner time
Handbag is the correct term if it's expensive, purse is regarded to be less expensive
If you pass the salt or the pepper, you pass both (think of them as a married couple)
The correct way to applaud is just slightly to your left, about chest height. You never want to clap in front of your face.
The seat in the back of the limo is far right, which is for the boss, then load in towards the left
When you get into a car, you sit then swing your legs in
Never point at someone. You can point at something, but never a person
When faced with a revolving door, it's polite to enter first, never let the other person be in the position to have to push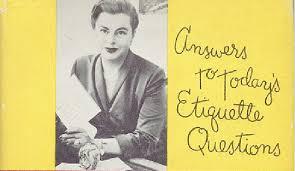 2. Did you find this list to be antiquated?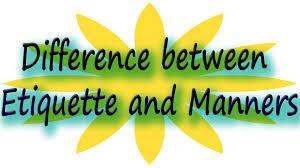 3. Do you know the difference between etiquette and manners?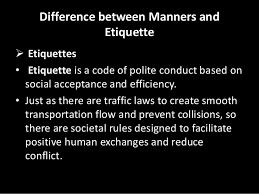 4. Check off what you know, regarding etiquette and manners:
The primary distinction between etiquette and manners is that the first includes specific rules of conduct, while the other is more generalized.
Manners involve general behavioral guidelines, such as treating the elderly with respect and courtesy.
Etiquette is a specific code of behavior, with an example of etiquette being knowledge of the proper mode of address for a queen, which is, incidentally, Your Majesty.
Many of the rules of etiquette are already practiced by people with good manners, and a demonstration of familiarity with good manners will mark someone as cultured, polite company.
People are typically taught manners from a very young age
Children learn, for example, that it is not polite to stare, to make personal comments (like telling a Jew that their head will explode by leaving the O out of G-d)
In childhood, people usually absorb lessons about how to treat others and how to behave in a variety of situations.
Manners often become second nature when they are taught at a young age.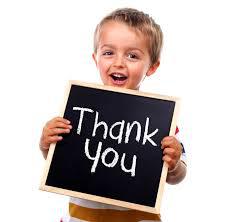 5. When did you learn etiquette or manners or both?
I learned as I went, growing up over a range of time
I have never learned either etiquette or manners
01/03/2016
Living
1766
42
By: ptajuggalette
Earn Rewards Live
Comments