Results for - Suicide T-Shirts Cause An Outrage
1,832 voters participated in this survey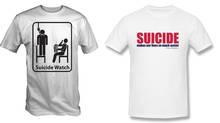 1. Consumers are outraged and are calling for Amazon to pull suicide themed t-shirts from their website. These t-shirts depict suicide-themed graphics that actually make light of this serious subject. Several mental health advocates say these shirts cross the line and should be pulled from the site. Are you aware of this story?
2. The t-shirts make fun of suicide according to mental health spokespersons and could even possibly 'push someone over the edge' Do you feel shirts like this should be pulled from the market?
Yes they should be pulled and banned from being sold
No, we live in a free market and no one should dictate what we wear or don't wear
Not sure. It's a touchy subject
3. Do you personally know someone who has either attempted suicide or actually committed suicide (or perhaps you yourself have attempted suicide)?
I don't know anyone who has
4. If your answer to previous question was they you knew someone or you yourself has, do these t-shirts offend you?
01/14/2016
Living
1832
52
By: Harriet56
Comments