Results for - AND THE RAZZIE GOES TO..........
1,781 voters participated in this survey
John B. Wilson (Copyright/Publicist-Los Angeles) in 1981, asked his pot luck dinner guest to have an impromtu awards presentation after watching the 53rd Academy Awards ceremony. He formalized the event with a podium of cardboard, a microphone made of a broomstick with a foam ball, and wore a tacky tuxedo. It is the official 1st Golden Raspberry Award for Worst Picture ! By the time the 4th ceremony was held in 1984, CNN and other major networks were there to cover the "event".
1. Did you know the history of the Raspberry Award before this survey?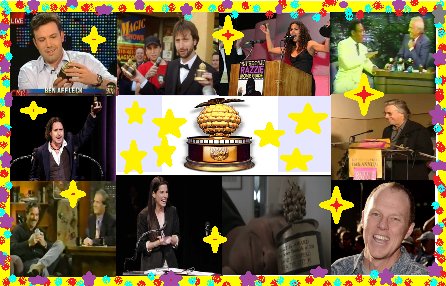 2. Nominees are notified and graciously invited to attend. ( March 27, this year ) Of all past invitees , only a few have ever shown up to accept their award, ( and had fun with it ) or gracefully accepted at another venue, like The Tonight Show. If you were nominated for any Razzie, would you attend?
3. Only a Razzie member may vote. Did You know that YOU too can become a Razzie member of this esteemed committee for only $40.00 ?
I do not want wish to be a member
No-one would want me as a member
4. It's Your Lucky Day ! You Can Vote Too ! Remember....These are Razzie nominations, not mine !
I never wanted to be included !
6. Worst Director
Andy Fickman for Paul Blart Mall Cop 2
Tom Six for Human Centipede 3 (Final Sequence
Sam Taylor-Johnson for Fifty Shades of Grey
Josh Trank for Fantastic Four
Andy and Lana Wachowski for Jupiter Ascending
7. Worst Actor
Jamie Dornan in Fifty Shades of Grey
Kevin James in Paul Blart Mall Cop 2
Adam Sandler in The Cobbler and Pixels
Channing Tatum in Jupiter Ascending
8. Worst Supporting Actor
Chevy Chase in Hot Tub Time Machine 2 and Vacation
Josh Gad in Pixels and The Wedding Ringer
Jason Lee in Alvin & The Chipmunks Road Chip
Eddie Redmayne in Jupiter Ascending
9. Worst Actress
Katherine Heigl in Home Sweet Hell
Dakota Johnson in Fifty Shades of Grey
Mila Kunis in Jupiter Ascending
Jennifer Lopez in The Boy Next Door
Gwyneth Paltrow in Mortdecai
10. Worst Supporting Actress
Kaley Cuoco-Sweeting in Alvin & The Chipmunks Road Chip and The Wedding Ringer
Michelle Monaghan in Pixels
Julianne Moore in Seventh Son
Amanda Seyfried in Love the Coopers and Pan
11. Worst Screen Combo
All Four Fantastics in Fantastic Four
Johnny Depp and His Glued-On Moustache in Mortdecai
Jamie Dornan and Dakota Johnson in Fifty Shades of Grey
Kevin James and either His Segue or His Glued-On Moustache in Paul Blart Mall Cop 2
Adam Sandler and Any Pair of Shoes in The Cobbler
13. Worst Remake, Sequel, or RipOff
Alvin & The Chipmunks Road Chip
Human Centipede 3 Final Sequence
14. Razzie Redeemer Award
01/24/2016
Living
1781
37
By: hisdimple
Earn Rewards Live
Comments