Results for - There's Snow Business Like Snow Business
2,085 voters participated in this survey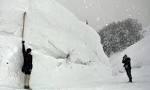 1. While many in the U.S. north east are digging out from the biggest snow storm in recent years (largest amount 40" in West Virginia) , it pales in comparison to some storms--small comfort to those knee-deep in the freezing cold white stuff right now! Has your area ever experienced what you recall as "the blizzard of a lifetime"?
Many times (many lifetimes...?)
Live in an area that gets little or no snow
2. Imagine living through some of these horrid storms...how many of you either remember these, or have heard stories?
The Eastern Canadian Blizzard of 1971 -- Quebec and Ontario, Canada--dumping a foot and a half (45.7 cm) of snow on Montreal and more than two feet (61 cm) elsewhere in the region, combined with frigid temperatures and high winds
The Blizzard of 1967 - Midwestern U.S.--Snow totals topped 2 feet (61 cm), and winds exceeded 50 mph (80.5 kph). Sadly, the storm left 76 dead -- 26 in Chicago alone
The Buffalo Blizzard of 1977-- frigid temperatures and heavy snow, compounded with an already huge amount of snow on the ground left Buffalo with a total of 199.4 inches of snow that season
Lhunze County, Tibet -- 2008--average snow depth of 59 inches (1.5 m). Some villages experienced continuous snow for 36 hours, dropping five or six feet (1.52 or 1.83 m) of snow on the ground
The Storm of the Century, 1993 -- Eastern United States--March snowstorm affected parts of 26 states and some provinces, reaching more areas than any other storm system
Mount Shasta, Calif. -- 1959--189 inches (4.8 m) of snow recorded at the Mount Shasta Ski Bowl is the largest snowfall from a single storm in North America
3. The record for the most snow in one season in the U.S. was 1,140 inches (95 feet) was recorded at Mount Baker Ski Area (4,200 feet elevation) during the July 1, 1998 to June 30, 1999 snow season. For perspective, that snow total is equal to the height of nine to ten basketball goals stacked on top of each other or running the distance on a football field from the goal line to just past the 30-yard line. Were you affected by this ridiculous amount of snow--even if it was over an entire winter season?
4. Mount Shasta, California was the biggest snowfall from a single storm ever recorded. Perhaps you experienced it, and perhaps you did not. Either way, would you enjoy having this much snow (I dislike snow, so I answer NO!, but some people dream of this type of snowfall)?
If I didn't have to drive, work, shovel...then yes
In a heartbeat...I'd love it...snowball fights, snow angels, snow anything!
01/26/2016
Living
2085
45
By: Harriet56
Earn Rewards Live
Comments