Results for - Always Wear Clean Underwear...You Never Know If You're Going To Be In An Accident
1,917 voters participated in this survey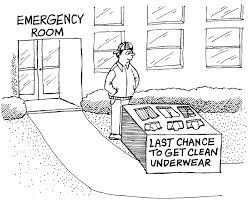 1. When I was a young girl, my mom would say things to me that seemed strange, but all my friends were also told similar things by their moms. Have you ever heard the saying "Always wear clean underwear. You never know when you're going to be in an accident"?
My mother always told me that too!
2. Which other "mom expressions" did you grow up hearing (or perhaps you yourself said these things to your children)?
Don't put that in your mouth; you don't know where it has been
Be careful with that or you will put your eye out
If you can't say anything nice, then don't say anything
What part of NO don't you understand?
You'll understand when you are older
3. Do you sometimes find yourself saying the same things that your mother said to you, even though you may not fully understand the "logic" behind some of these sayings?
Actually I do, but I think these sayings made sense
Never heard any of these sayings/mom never said them to me
4. Modern day moms probably have their own sayings now, especially with social media and instant messaging being the norm. Which of these new "mom sayings" do you use, or do you hear other people using?
Never post anything that you would not say in person
Just because you delete it, doesn't mean that someone didn't see it
You think you're talking to someone you know, but you never really know who is behind that profile
Temporary anger becomes permanent postings
Always remember that everything you post becomes part of your online history...think of your future
Spelling and grammar matters even on Twitter or Instagram
02/09/2016
Living
1917
27
By: Harriet56
Earn Rewards Live
Comments