Results for - If At First You Don't Succeed...
1,845 voters participated in this survey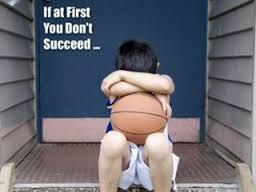 1. Before becoming one of the icons of the entertainment world, Walt Disney was fired by a newspaper editor because, "he lacked imagination and had no good ideas." After that, Disney started a number of businesses that didn't last too long and ended with bankruptcy and failure. And then after plugging away, he founded the Disney empire. Sometimes success doesn't come easy. How many of these famous success stories did you know first had struggles and failure?
Harland David Sanders: Perhaps better known as Colonel Sanders of Kentucky Fried Chicken fame, Sanders had a hard time selling his chicken at first. In fact, his famous secret chicken recipe was rejected 1,009 times before a restaurant accepted it.
Bill Gates: Gates didn't seem like a shoe-in for success after dropping out of Harvard and starting a failed first business with Microsoft co-founder Paul Allen called Traf-O-Data. While this early idea didn't work, he had much better luck with Mircrosoft
Akio Morita: You may not have heard of Morita but you've undoubtedly heard of his company, Sony. Sony's first product was a rice cooker that failed, selling less than 100 units. This first setback didn't stop him from creating Sony
Henry Ford: While Ford is today known for his innovative assembly line and American-made cars, he wasn't an instant success. In fact, his early businesses failed and left him broke five time before he founded the successful Ford Motor Company
R. H. Macy: Most people are familiar with this large department store chain, but Macy didn't always have it easy. Macy started seven failed business before finally hitting big with his store in New York City.
F. W. Woolworth: Woolworth was once one of the biggest names in department stores in the U.S. Before starting his own business, young Woolworth worked at a dry goods store and was not allowed to wait on customers because his boss thought he lacked the sen
2. Many others experienced major setbacks in their quest to achieve greatness. How many of these were you familiar with?
Oprah Winfrey-- endured a rough and often abusive childhood, and career setbacks including being fired from her job as a television reporter because she was 'unfit for TV
Fred Astaire--in his first screen test, the testing director of MGM noted that Astaire "Can't act. Can't sing. Slightly bald. Can dance a little."
Lucille Ball--before starring in I Love Lucy, Ball was widely regarded as a failed actress and a B movie star. Even her drama instructors didn't feel she could make it, telling her to try another profession. She, of course, proved them all wrong.
Steven Spielberg--he was rejected from the University of Southern California School of Theater, Film and Television three times. He eventually attended school at another location, only to drop out to become a director before finishing.
Stephen King--the first book by this author, the iconic thriller Carrie, received 30 rejections, finally causing King to give up and throw it in the trash. His wife fished it out and encouraged him to resubmit it, and the rest is history
Michael Jordan--most people wouldn't believe that a man often lauded as the best basketball player of all time was actually cut from his high school basketball team.
Charles Schultz-- had every cartoon he submitted rejected by his high school yearbook staff. Even after high school, Schultz didn't have it easy, applying and being rejected for a position working with Walt Disney
3. Sometimes great success is achieved without a lot of struggle or rejection. How many of these lucky instant success stories are you familiar with?
Tyra Banks--started modeling at age 15, signed with Elite Model Management at 16, and the rest is history
Lana Turner--discovered while skipping school in a malt shop at 15, and immediately was cast in movies
Channing Tatum--discovered walking on the street and signed for Nautica and Gap print ads
Jennifer Lawrence--as a 14-year old, did a reading for a commercial and was instantly signed
Justin Bieber--discovered by accident on YouTube by Scooter Braun, while searching for another singer
Mark Zuckerberg--launched Facebook from his Harvard dorm with some friends at age 20
Rupert Grint and Emma Watson--both got roles in Harry Potter movies with only high school plays as previous experience
02/15/2016
Living
1845
21
By: Harriet56
Comments