Results for - Hunting Moose
2,206 voters participated in this survey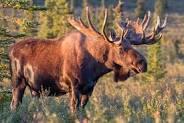 2. How long have you had a hunting license?
I just got my hunting license.
3. When you shoot a moose, do you skin the moose yourself?
I pay someone to skin the moose for me.
4. How do you cook your moose?
I get someone else to cook the moose for me.
5. Do you keep the hide of the moose?
02/16/2016
Living
2206
57
By: darlamae
Earn Rewards Live
Comments