Results for - Doggie Braces
1,403 voters participated in this survey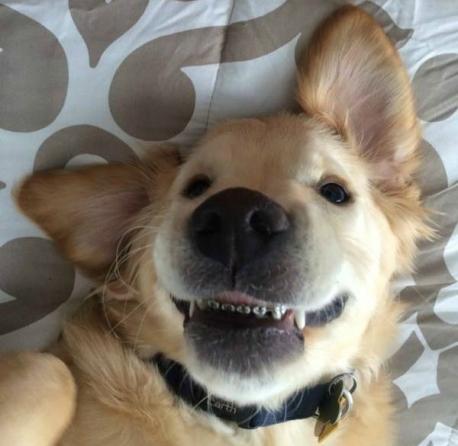 1. Wesley is a 6-month old Golden Retriever that has braces. He lives a few towns to the North of me and has become an internet sensation. Pictures of the pup have been shared more than 283,000 times. They were even on "Good Morning America." Have you heard about Wesley?
2. Teenagers everywhere may refuse to smile because of braces, but this puppy with a mouthful of metal is slaying the Internet with his goofy metal grin. Veterinarian Dr. James Moore in Spring Lake, Michigan, gave the buzz-worthy orthodontia to his daughter's pooch because he was having problems eating and opening his mouth. Have you ever had a pet with dental issues?
3. Unlike their human counterparts, dogs don't have to wear their metal for years. Typically, teeth can be moved around rather quickly — in just a few weeks or maybe a couple of months. That's because their mouths mature so much faster. Did you know that they made braces for animals?
03/06/2016
Living
1403
21
By: sarahzahm
Earn Rewards Live
Comments