Results for - Pup with a purpose
2,439 voters participated in this survey
Source: https://nbc24.com/news/nation-world/pup-with-a-purpose-funeral-home-uses-puppy-to-help-grieving-families?utm_source=Sailthru&utm_medium=email&utm_campa
1. Tori McKay has worked at Macon Funeral Home in Franklin, NC for over 10 years. As the office administrator, she said she works there because she's got a tender heart for helping people. Do you personally or do you know someone who has a heart for helping others?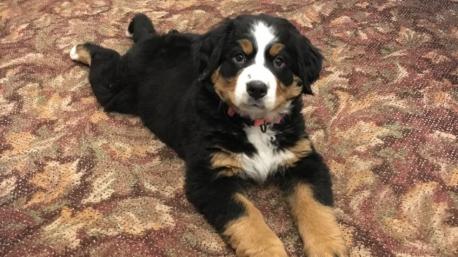 2. "From hospitals, to nursing homes to the funeral home, there is such a need for natural, unconditional love, care and support," McKay said. But McKay isn't just referring to herself. The newest member of Macon Funeral Home also seems to have a knack for consolation. Meet Mochi (pronounced "mow-chee"), a just over 8-week-old Bernese Mountain Dog with a purpose. Do you think there is a place for animals in certain professions where dealing with grieving people is a regular part of the job?
3. She loves people, loves to sleep, and if plans go accordingly, she'll be Macon Funeral Home's first therapy dog once she's been fully trained. McKay, the new companion's owner, says Mochi already seems to have an innate sense for comforting people. "She walked into work for the first time and immediately she was home," McKay recalled. "Greeting everyone with affection and finding her place among us every day has been such a joy to watch." Do you work in a profession where an animal like Mochi would be useful in comforting people?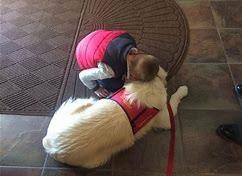 4. McKay said her goal is to both work funeral visitations with Mochi when families request her and visit nursing homes in the evenings from time to time. She said Mochi makes an ideal addition to the funeral home because of the nature of her breed. "The Bernese Mountain Dog is a very loyal, affectionate and gentle animal, and has always been my choice for a potential grief therapy dog," McKay described her new companion in a post on the funeral's website. "They have a history of being excellent therapy and support dogs, which comes from their kind disposition and laid-back personalities." If you have a dog, do you think he or she would be a good compassionate companion animal?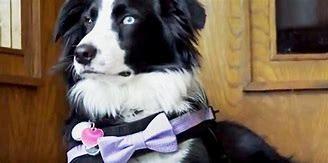 5. McKay said she had always wanted a Bernese Mountain Dog, but that her inspiration for raising a grief therapy dog came from someone a few years back. Melissa Unfred, a licensed mortician, owns and travels the country with her therapy dog, Kermit. In 2017, after extensive training, Kermit officially became Texas' first grief therapy dog. If you have ever been to a funeral for a loved one, do you think a therapy dog would have helped you deal with your grief?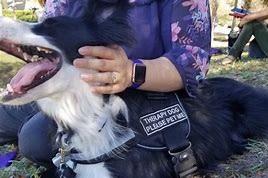 6. Since then, a growing number of funeral homes have started adding therapy dogs as part of their staff. The Alliance of Therapy Dogs website notes why this might be: "Therapy dogs have the innate ability to sense a person's emotional needs and act on them with unconditional love. Since those who are grieving may experience many of these emotions, therapy dogs make the perfect companion to help ease anxiety and confusion of death." Do you think therapy dogs are effective in helping people deal with their grief - such as the loss of a loved one?
02/19/2020
Love & Relationships
2439
40
By: bezdekbt
Comments