Results for - Can We All Just Agree To Disagree?
2,389 voters participated in this survey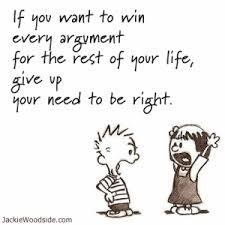 1. Facts don't win arguments. In recent years, with the two sides of our most polarizing political debates shouting past each other and absolutely nothing constructive getting done, we desperately need to find ways to understand one another and reach some kind of respectful consensus. But, not surprising, statistics and rationed arguments isn't the way. Do you spend a lot of time on either this site or other social media sites arguing?
Avoid commenting or responding to comments
2. If you want to win arguments or persuade others to see your side of a debate, these things are what you should do to achieve that goal -- do you do any of these things?
People really hate admitting they're wrong and it's impossible to bash through this stubbornness by sheer force. The more you demand that someone admit they were wrong or foolish, the deeper they'll generally dig themselves into their current opinion. Instead, "give the mind an out". The key is to trick the mind by giving it an excuse. Convince your own mind (or your friend) that your prior decision or prior belief was the right one given what you knew, but now that the underlying facts have changed, so should the mind.
To change minds, you don't just need to talk about the facts, you need to talk about beliefs. And to do that you need to see things from other people's perspective. You need empathy and to appeal to their beliefs.
Just like any skill, you need to practise the skill of arguing, so make a point to befriend people who disagree with you. Expose yourself to environments where your opinions can be challenged. And always talk respectfully
If you want to change others' opinions, first make sure you're willing to change yours too.
3. 14% of Americans have changed their mind about an issue because of something they saw on social media according to a recent Pew Research Center survey. While that is not a particularly large percentage, it is still significant enough to show that some people can be persuaded to alter their beliefs if the right approach is taken. Do you feel you can argue appropriately?
10/15/2020
Love & Relationships
2389
96
Anonymous
Comments