Results for - If It Doesn't Hurt Anyone -- And Could Possibly Save A Life -- Why Would Anyone Have A Problem With It?
2,193 voters participated in this survey
Who knew one little word could cause such a controversy? "They" as a singular pronoun to identify someone who is gender-fluid or transgender is the subject of much debate. Many feel it is "silly", "awkward", "unnecessary" or "ridiculous", but if it doesn't hurt anyone, why such an aversion to using the word -- a word that could potentially save a life...
1. Although the usage of "they" as a singular pronoun dates to 1375, and it appears in works by Shakespeare and Chaucer, its usage as a non-binary singular pronoun has been more recent. Merriam-Webster added the word's non-binary meaning to its online dictionary in September 2019. "They" refers to the gender of a non-binary person or transgender person. If you would like to know more about being non-binary, and how it feels to the person who identifies as such, you can view this video. Do you know anyone (or perhaps you yourself) who identifies as non-binary, and do they (or you) prefer the pronoun "They"?
I do, and I prefer the pronoun "they"
I do, and I do not use "they"
I know someone and they prefer the pronoun "they"
I know someone and they do not use "they"

2. Don't forget, the title of "Ms." which first was first used at the turn of the 20th century, was devised to avoid revealing a woman's marital status, as "Mrs." and "Miss" did and "Mr." did not. The term only became widely used after 1971, when prominent feminists, including Gloria Steinem, launched a magazine of the same name. It caused some debate surely, when it became common to use, but eventually we all got over it, accepted it, and it now is commonplace. When you need to check off or use a title, do you refer to yourself with the title of "Ms."?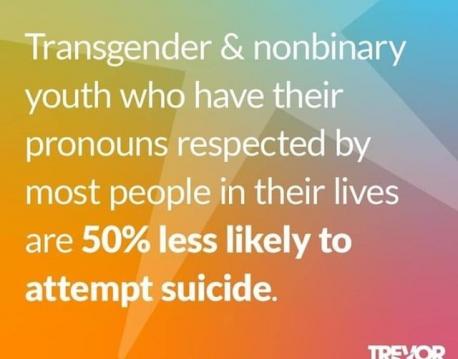 3. Whether or not you understand it, can handle using pronouns differently than you were originally taught or want to haggle over grammar and using 'they' to refer to a single person... none of that matters as much as keeping children and youth alive. You can keep tripping over your words--you'll survive. And your discomfort and challenge doesn't even approach the discomfort and challenge of being referred to with language that doesn't fit who you are, or having your identity denied. According to the Trevor Project, transgender or non-binary youth who have their pronouns respected by people in their lives, are 50% less likely to attempt suicide. Kids who are misgendered might not survive that experience; the least we can do is stack the deck in their favour by calling them by the names they tell us are correct. It doesn't hurt us, and it just might save them. Do you feel you could make the effort to be more understanding?
I'll try, but it will be a tough one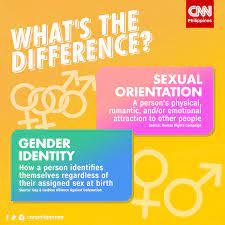 4. Finally, let's not forget that a person's gender identity is separate from their sexual orientation. To put it simply, your gender is how you see yourself (who you are), and your sexual orientation is who you are attracted to (who you love). Many people feel it is one and the same thing, and this is not correct. Did you know the difference?
No, and I still don't get it
Never gave it any thought
06/23/2021
Love & Relationships
2193
81
By: Harriet56
Comments