Results for - #OpenYourWorld
2,209 voters participated in this survey
1. Why are we so divided these days? Politically, it seems that the two extremes especially, not only can not discuss their ideas and feelings together, they can't even listen to the other side without insulting each other. In 2017, Heineken (yes, the beer company) in U.K. started an online campaign to try and show people how to talk to others with opposing beliefs, and maybe even narrow, or even close, the divide. The Worlds Apart campaign partnered a feminist with a member of the "new right"; a climate change denier with an environmental activist; and a transgender woman with a transgender – er, denier to ask if there is "more that unites us than divides us". Real people, meeting for the first time for a "social experiment", each pair is given some flatpack furniture to assemble and a questionnaire to complete together. Then, seated at the bar they've just built, they watch a short film in which their partner's opposing point of view – that climate change is "total piffle"; that women "need to remember we need you to have our children"– is revealed. They are then given a choice: to go, or "stay and discuss your differences over a beer". All six choose to hash it out respectfully; one pair are even shown to swap numbers. It goes to show there's no gap that can't be bridged over a refreshing Heineken. Now, this ad may be a bit optimistic, and of course, online differences can't really be talked about over a cold beer, or cup of tea, but wouldn't it be nice if people could discuss their differing beliefs without fighting about it, and name-calling?
Of course, but can't see that happening
Of course, and maybe we can try?
Of course, and I'll certainly do my part
Not sure if this will help
No, and I will continue to argue the way I want
I do not discuss my opinions here
2. If you watched the above video, did you ever see the infamous Pepsi ad of the same year, that aimed to do the same thing as this ad -- bring people together over a simple can of Pepsi. It failed, and did not get good feedback. If you saw the Pepsi ad, which ad do you think got the message across better?
Definitely the Heineken ad
Did not/could not watch videos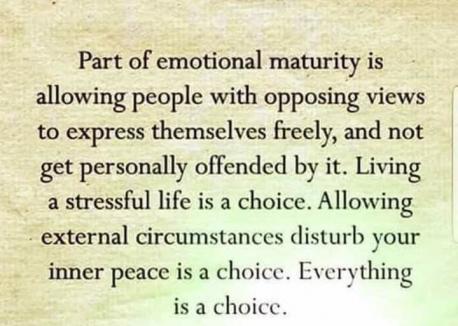 3. I saw this the other day, and thought I would share this. Do you believe this is fitting for what we seem to go through every day on this site, and other social media sites?
09/24/2021
Love & Relationships
2209
46
By: Harriet56
Comments