Results for - The Human Library
2,219 voters participated in this survey

1. The concept is simple—that stereotypes can be challenged when hearing stories from real people. The non-profit organization The Human Library, hosts events "where readers can borrow human beings serving as open books and have conversations they would not normally have access to. Every human book from our bookshelf, represent a group in our society that is often subjected to prejudice, stigmatization or discrimination because of their lifestyle, diagnosis, belief, disability, social status, ethnic origin etc." Have you ever heard of The Human Library initiative?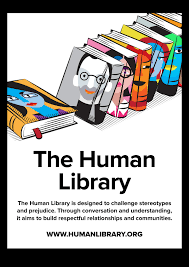 2. The movement originated in Denmark, where instead of borrowing a book to read a story, you borrow a person instead. The idea, established in 2000, is to "publish people as open books" so that a person can ask questions of someone's life and experience and understand issues better. These Human Library projects now exist in over 70 countries, including the U.S. and Canada. As well as borrowing a person, volunteers are always welcome to become human books. Do you think you would have anything to offer as a human book?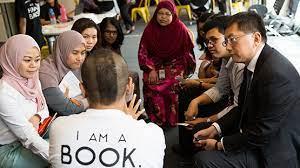 3. You can sit down with "Alcoholic", "Autism", "Bipolar" and "Body Mod Extreme" (someone with extreme body modifications) through every range of human condition imaginable—"Molested", "Muslim", "Naturist", "Polyamorous", etc—and ask questions, and hear people's stories. The tagline is "unjudge someone." Do you think this is something you would be interested in trying out?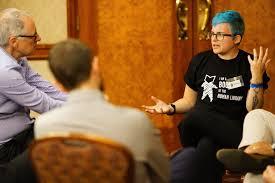 4. You reserve human books just like you reserve books from the library, and sessions are held in a safe space for all. Which of these specific human books would you like to sit down and hear from?
Transformista (Crossdresser)
Soldier Suffering From Severe PTSD
08/12/2022
Love & Relationships
2219
35
By: Harriet56
Earn Rewards Live
Comments