Results for - Partners and Confidence Levels
1,584 voters participated in this survey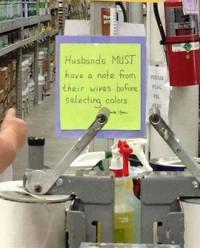 1. I saw the picture, with the note that reads (for purchasing house paint) that husbands need to have a note from their wives when purchasing colored paint. If you needed house paint for a project, how confident would you be in sending your partner to get it?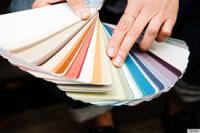 2. Let's break that down. Assume that you answered based on a certain situation. Looking at the available answers, choose the basis for your answer in question #1:
My answer was based on me telling my partner, go get paint. Something blue, don't care what shade, just has to be blue
My answer was based on this scenario: Get something light or dark of a particular shade
My answer was based on this scenario: Exactness: Go get ecru or eggshell white, or wedgewood blue
My level of confidence, in my partner, reflects anyone of these scenarios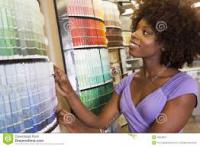 3. Are there any situations that you know you could accomplish better than your partner, but maybe because you have an appointment or your sick, you needed to send you're partner out and you cringed at the very thought of the end result?
08/24/2015
Love & Relationships
1584
30
By: ptajuggalette
Comments