Results for - Fair-Weather Friends
1,497 voters participated in this survey
This is the definition of a fair-weather friend (noun): One who is friendly, helpful, or available only when it is advantageous or convenient to be so. Also a friend who is only a friend when circumstances are pleasant or profitable. At the first sign of trouble, these capricious, disloyal friends will drop their relationship with you.
1. Are you familiar with what a Fair-Weather Friend is?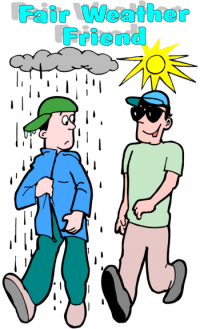 2. Do you associate with any Fair-Weathered Friends?
3. How many Fair-Weathered Friends do you have?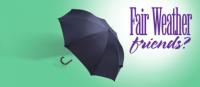 4. Do you think having Fair-Weathered Friends in your life is a healthy relationship (friendship)?
09/21/2015
Love & Relationships
1497
26
By: msrcms
Comments