Results for - Couple With Asperger's Makes An Important Message With Their 'All Autism' Wedding
1,461 voters participated in this survey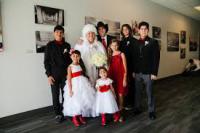 1. When bride Anita Lesko and groom Abraham Talmage Nielsen said their vows on September 26, it was so much more than two people promising to love each other in front of their family and friends. In fact, almost every person attending their wedding had never met the couple, but they all had one major thing in common. The entire wedding party and guests, with the exception of only a few people, placed somewhere on the Autism Spectrum. The couple, who first met at an Asperger's support group that Lesko was facilitating, were married at the Love & Autism conference in San Diego, California on Saturday. Everyone in the wedding party and many involved in the celebration identified as being on the autism spectrum, including the flower girl, ring bearer, harpist, best man, DJ and cake maker. Have you heard anything about this wedding and their message?
2. The reason the couple chose to hold this wedding as an all-autism event, open to anyone who falls on the spectrum, was to prove to people that autism or Asperger's and meaningful connections are not mutually exclusive, as many experts and people are led to believe. The couple said when they walked down the aisle and saw so many faces filled with love and anticipation, they were overwhelmed with joy. Do you know someone, perhaps even yourself, that falls on the autism spectrum?
I suspect someone does, but not sure
3. In the past, experts and most people raising children with autism believed that meaningful relationships were not going to be possible--but that certainly is not the norm any longer. This wedding further emphasizes the importance of relationships in the lives of people with autism. If you know someone with autism or Asperger's, do they (or you) have important and meaningful relationships with others in their life?
I/they do-- several in fact
I/they are actually married or in a committed relationship
Perhaps a few, mostly with family
10/05/2015
Love & Relationships
1461
22
By: Harriet56
Earn Rewards Live
Comments