Results for - Immersed in water while you eat
1,530 voters participated in this survey
1. Villa Escudero with the Waterfalls Restaurant, located in the Phillipines, average night stay $88 US dollars, has a restaurant right at the break of waterfall. Have you been here?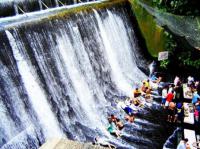 2. Obviously you need to wear sandles, would it bother you to be in water while you ate?
3. Do you think this restaurant would be a good experience?
09/07/2015
Travel
1530
17
By: ptajuggalette
Comments