Results for - 26-Year-Old 'Corduroy' Nabs 'Oldest Living Cat' Title
1,508 voters participated in this survey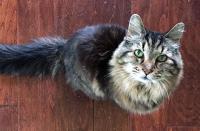 1. A cat born on August 1, 1989 has just been certified by Guinness World Records as the current oldest living cat named Corduroy. Are you familiar with this story?
2. Corduroy is 26. An age well past typical domestic cats, which live on average about 15 years. What is the oldest living pet you have ever owned?
3. Is this the first time you are viewing Corduroy's video?
4. The Guinness people note that while Corduroy's age is impressive, he has his work cut out for him if he is ever to catch the oldest cat ever (Creme Puff), who was born in 1967 and did not die until he was 38 years and 3 days old. Do you think Corduroy will ever reach the age of 38 like the cat named Creme Puff?
08/23/2015
Pets
1508
29
By: msrcms
Earn Rewards Live
Comments