Results for - Otto, the skatedogger!
1,797 voters participated in this survey
1. In Lima, Peru, 11.13.2015, Otto the Bulldog glided into the record books with a triumphant attempt at the Longest human tunnel travelled through by a skateboarding dog, all in honour of Guinness World Records Day 2015. Were you able to watch this event on tv?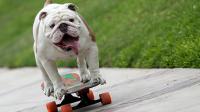 2. Otto managed to skate through the 60 pairs of open legs of 30 humans. If you have a pet, can it do any tricks?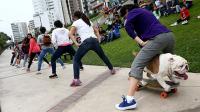 3. I have watched this video over and over. Will you watch it more than once?
4. If you have a non-performing pet, does this video & record breaker inspire you to teach your pet something new?
11/15/2015
Pets
1797
19
By: ptajuggalette
Comments