Results for - What Took So Long? Little Things That Make So Much Sense!
2,567 voters participated in this survey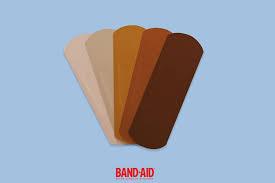 1. Back in 2020, Johnson & Johnson launched a range of bandages in "light, medium and deep shades of Brown and Black skin tones that embrace the beauty of diverse skin." While this may seem like old news, and maybe even comes under the umbrella of "who cares", let's think about it for a minute. Up until 2020, bandages, which were supposedly "skin tone" were all beige. This may be a small step in racial equality, but a fairly important one. Are you a person of colour?
2. The move comes 99 years into the history of Band-Aid and amid protests around the world sparked by the death of George Floyd during an arrest by police in Minneapolis and other recent incidents of violence and injustice against Black people. But it's more than a response to the recent news stories. By 2044, the majority of the U.S. population will be people of colour. According to analysis of Bureau of the Census projections, by 2044, the United States will have no clear racial or ethnic majority. According to new population projections, whites will make up 49.7 percent of the population, followed by Latinos at 25 percent, African Americans at 12.7 percent, and Asians at 7.9 percent. So, in light (no pun intended) of this projection, do you think Band-Aid was smart in putting out these bandages?
3. One person who set up an online petition in 2015 asking Band-Aid to diversify its range said they had never thought about the colour of Band-Aids until a friend asked: "Do you think that it is a sign of a deeper societal problem that Band-Aid's 'flesh' colour defaults to Caucasian?" Do you see the point of this move?
01/19/2022
Products
2567
107
By: Harriet56
Earn Rewards Live
Comments