Results for - Drinkable Sunscreen
3,478 voters participated in this survey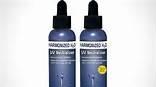 1. Osmosis Skincare claims to have developed a drinkable sunscreen that provides protection comparable to an SPF (sun protection factor) 30 lotion. Have you heard of this product?
2. The product is available in Tan Enhancing and No Tan Enhancing varieties. On its website, the brand advises, "Take 2ml every 4 hours while in the sun (preferably with 2+ oz of water)." The company website contains several positive testimonials, but some experts are skeptical. Would you trust a drinkable sunscreen to protect your skin?
3. According to Osmosis Skincare, once ingested, the product's liquid molecules vibrate on the skin, canceling out 97 per cent of UVA and UVB rays. The company notes on its website that the Food and Drug Administration has not evaluated its claims. Would you feel safe ingesting a drinkable sunscreen?
4. Will you try this drinkable sunscreen?
06/03/2014
Products
3478
48
By: Bboopy13
Earn Rewards Live
Comments