Results for - iHome Model iHM60
2,000 voters participated in this survey
1. When listening to music or watching movies & other media on devices such as laptops, tablets, mp3 players, cellphones, etc. do you find that the volume or sound quality could be better?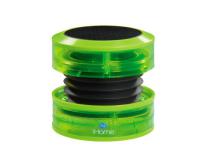 2. iHome, maker of audio systems for iPod, iPhone, and iPad users offers iHM60 for those who want amplified sound while previewing media on their devices. iHM60 is a small portable & rechargeable speaker system that can be used not only for Apple products but for any device with an audio jack. Do you own an iHM60?
3. The product which can be bought at retailers such as Walmart, Target, and online at Amazon, Ebay, and the official iHome website runs between $15-$19. It also comes in many different colors & has the ability to be closed. Would you ever purchase the iHM60 for yourself or for someone else as a gift?
Yes I already plan on getting it for myself/as a gift for someone else
Undecided - Might have to get more information/look up reviews
No I'm happy with the sound quality on my devices
N/A - Don't own or use any of the devices listed
11/18/2014
Products
2000
15
By: maddi
Comments